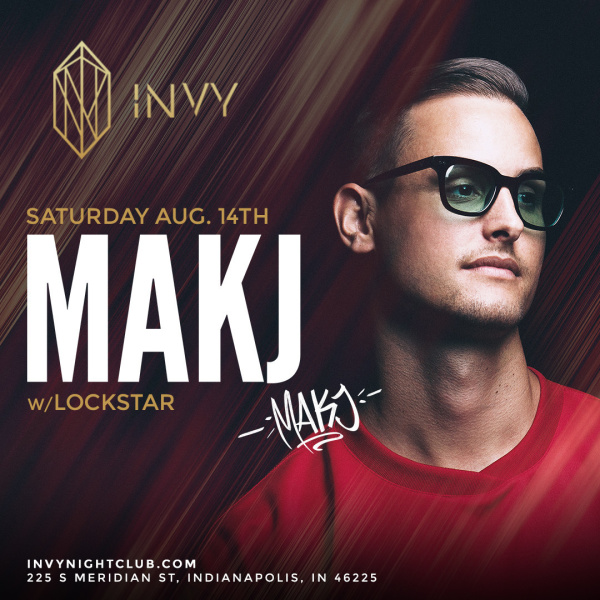 Location
INVY MUSIC VENUE

225 South Meridian St,
Indianapolis, IN 46225
Get Directions
Location
INVY MUSIC VENUE

225 South Meridian St,
Indianapolis, IN 46225
Get Directions
Event Description
MAKJ is a DJ hailing from San Luis Obispo, California, United States who was born 1990. Since his debut in 2011 he has released a multitude of singles and hosted his own acclaimed radio show that's streamed on iHeartRadio and 101.7 Boston.
Mackenzie Johnson has had a cooler life than you. It's not a contest, but it's true. I mean, what else can you say about a man who developed a passion for his future career in DJing while studying to become a professional race-car driver in China at the age of 15? The discovery completely changed the young Mackenzie's future, and when he was 17 he moved back to the United States with two years' worth of DJ training under his belt. Almost immediately he started performing at local DJ events and club nights, and received personal training from the dearly departed DJ AM, who taught him how to scratch. He's since made his greatest gains as a live act, going on a number of tours all around the world and playing festivals as varied as Coachella and TomorrowWorld.
However, he's also a prolific producer who's collaborated with everyone from DJ Kura to Lil' Jon, he's had several singles of his chart highly on the Beatport charts and his Hardwell collaboration "Countdown" topped the chart in 2013. Ever since then he's remained one of the most exciting DJ's of his generation, coming in at number 63 on DJ Magazine's list of the Top 100 DJ's of 2014 after only three years in the business. He has the world of electronica at his feet, and for that, MAKJ comes highly recommended.