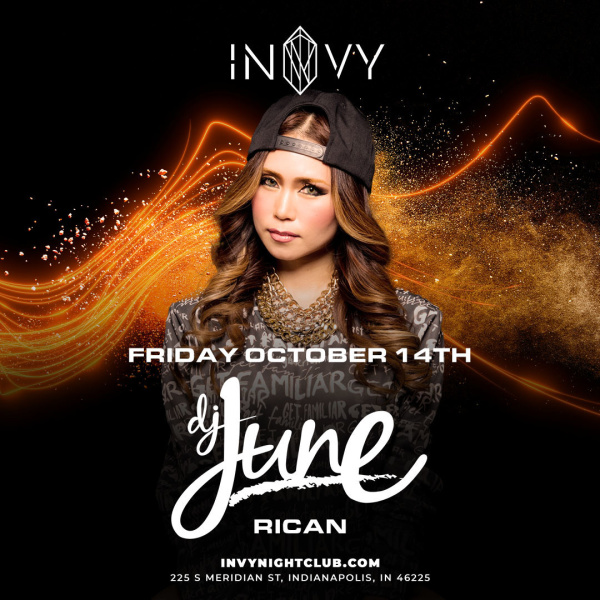 Location
INVY MUSIC VENUE

225 South Meridian St,
Indianapolis, IN 46225
Get Directions
Location
INVY MUSIC VENUE

225 South Meridian St,
Indianapolis, IN 46225
Get Directions
Event Description
DJ June began her music career at the Institute of Audio Research studying to become a professional studio engineer. After graduation, June worked as a buyer specializing in vinyl at Brooklyn's legendary Beat Street Records, while also interning at a recording studio. At the time, DJ June was making beats which naturally sparked her interest in DJing. Through her work at Beat Street, she met countless party and Hip-Hop DJs. June's training really took off when the legendary DJ Scratch became her mentor. Teaching her all the tricks of the trade, from reading a crowd to personal advice about the music industry. 
As their partnership progressed, expectations were set high for her skills on the turntables. Being both female and Asian only added fuel to her fire, determined to prove her skills to the world. June has not let gender or ethnicity hinder her success as a DJ, in one of the toughest markets of all, New York City.
DJ June has performed in major cities all over the world including LA, Las Vegas, NYC, Atlantic City, Miami, Boston, and Taiwan just to name a few. Her resume is both impressive and sexy, as she was the official DJ for Playboy Magazine. June always knows how to work a room from intimate locations to big venues. She's thrown down at some of the world's most iconic clubs like Marquee, Avalon, Duvet, The Roxy, Mars 2112, China Club, Exit, and even the Copacabana. June can also be found playing in some of the most decadent hotels from the Tropicana, to Caesars, and Trump Taj Mahal. She's been a favorite of top brands including Playboy, Nike, and Adidas. And a must-have at album release events; just ask Diddy, Lil' Kim, Vivica A. Fox, Jim Jones, Fabulous. Despite her world-renowned resume, June is more down to earth. She stays focused on the music, being positive, and not ego trippin'.
DJ June does not like to label her style or try and put it in a box. Her specialty is playing what's hot, fun, and classic. Her sound is like a gumbo mix of Hip Hop, R&B, Reggae, 80s Pop, Rock, House, Dance, Mash Up, and classic crowd-pleasing tunes. Her transitions from one genre of music to the next are flawless, and many publications have taken notice. DJ June has been featured in XXL, Scratch Magazine (Premier Issue), Swede Magazine, Flaunt, Hush, and on MTV, MTV2, Revolt TV, BET, Court TV, NYC TV, BCAT and more. 
June has the experience, the knowledge, and the skills. From the recording studio to the club, when she's on the turntables, a good time is guaranteed. With an ear to the streets and skillful blending, it is no wonder DJ June is on the path to international success.
Other resources: