Tony Martinez
Sat, Feb 4, 2023 9:00am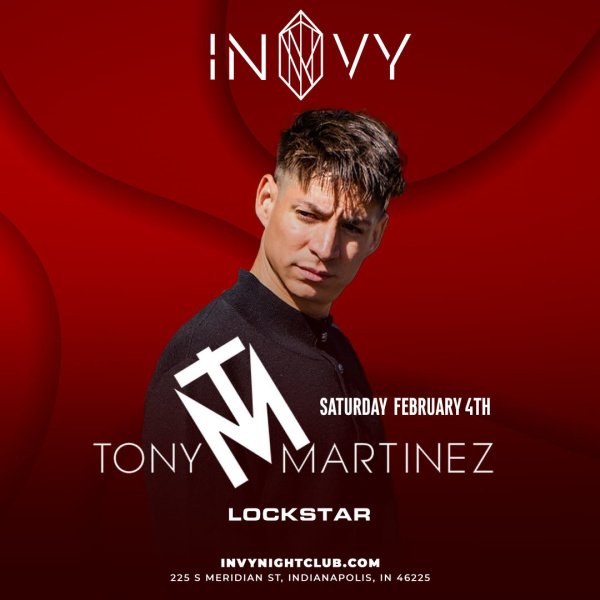 Location
INVY MUSIC VENUE

225 South Meridian St,
Indianapolis, IN 46225
Get Directions
Location
INVY MUSIC VENUE

225 South Meridian St,
Indianapolis, IN 46225
Get Directions
Event Description
TONY MARTINEZ with LOCKSTAR

Recently named "Hollywood's 'IT' DJ" by OK! Magazine, Tony Martinez is the most versatile DJ in the US. In Hollywood, a town notoriously known for being the most competitive market in the world for open-format DJ's, Tony has proven himself. Don't let the young face fool you, Tony has been rocking the decks since he was a kid and has over 15 years of experience under his belt. From the world's hottest nightclubs to exclusive celebrity galas, high-profile fashion, and Fortune 500 events, Tony's talent and eclecticism stand apart from the rest. Tony has played at every major venue in Hollywood while also holding residency at the best of them. Tony has been featured in the biggest entertainment, fashion and tabloid magazines all over the world including Vanity Fair, OK!, and Entertainment Weekly. There's not enough space to list all of Tony's A-List celebrity fans and clients, but he is known as Kate Hudson and Tobey Maguire's favorite DJ. Tony routinely plays for them and the rest of Hollywood's elite in the club and is personally called upon for their private soirees.

Hard work, passion, integrity, and dedication have fueled Tony's meteoric rise. Juggling a hectic schedule of over 200 shows per year, he can be found spinning in Las Vegas, NYC, Miami, San Francisco, and everywhere in between. His talents have also landed him international shows in Europe, The Bahamas, Canada, and Mexico. His repertoire is extensive, and he continues to impress with his creativity and high energy. He takes the party to unforeseen levels and keeps it there. He plays records you forgot existed and ones that other DJ's lack the courage to play. He is unique in every sense of the word. See for yourself...

When not traveling the globe, Tony is producing music and consistently working on his craft. Always bringing style and professionalism, Tony has also developed a growing recognition by the fashion elite. Tony works with some of the biggest brands in the world: from Vogue and InStyle to Ferragamo and MTV for their red-carpet events and as a music consultant. These world-renowned brands also hire him to craft custom-conceptualized mixes. Soon to be a household name, Tony's work ethic and passion drive him to push the bar and evolve as the best all-around artist he can be. Tony Martinez resides in Beverly Hills, CA and is available for bookings worldwide.