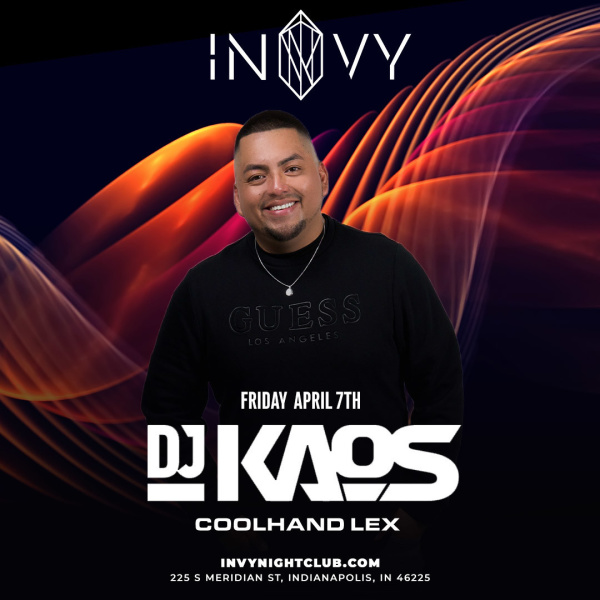 Location
INVY MUSIC VENUE

225 South Meridian St,
Indianapolis, IN 46225
Get Directions
Location
INVY MUSIC VENUE

225 South Meridian St,
Indianapolis, IN 46225
Get Directions
Event Description
SUPPORT: COOLHAND LEX
DJ KAOS
Over the past few years, San Diego native DJ Kaos has quickly ascended from local DJ to one of the fastest rising DJ's in the country. His talent, unmatched work ethic, and distinct style of play has garnered attention and put him on everyone's radar on a national level.
Kaos has been a life long music lover. His influences ‍‍‍stem from his early teenage years, listening to local radio DJ's and the way they mesmerized crowds with their perfected blends, scratches and music selections. A career in DJing became his ultimate goal and life long passion. Now, with over 10 years professional DJ experience, this San Diego resident is mesmerizing crowds of his own. Whether playing at San Diego hot spot Oxford Social Club, Chicago's Prysm Nightclub or spinning at On The Record in Las Vegas, DJ Kaos delivers quality performances every time. In addition to playing in major markets like San Diego, San Francisco, Miami, New York City, Chicago, and Las Vegas, Kaos has set his goals even higher. In 2018 Kaos embarked on his first international tour with performances in the Phillipines and Singapore.
In addition to being a traveling DJ, Kaos added yet another title to his name. In the Summer of 2018, DJ Kaos became the weekly on-air host of Sunburn Radio on Pitbull's Globalization. Each week his Sirius XM satellite radio show reaches millions of listeners across the US & Canada showcasing not only his talents, but that of countless other DJ's as well. Kaos has also continued to produce some of the most sought after custom edits and bootlegs in the game. His work in that field has been recognized as some of the best in the industry and his tracks have become a regular staple in sets from some of the biggest DJ acts around the world.
His rise in the industry is not one of luck, but one that can be attributed to a lifetime of dedication and hard work. Expect Kaos to continue pushing the envelope, expanding his reach and further separate himself from the pack. The future looks bright.