URIAH G PRESENTS: DJ APHRODITE
Thu, Jun 29, 2023 9:00pm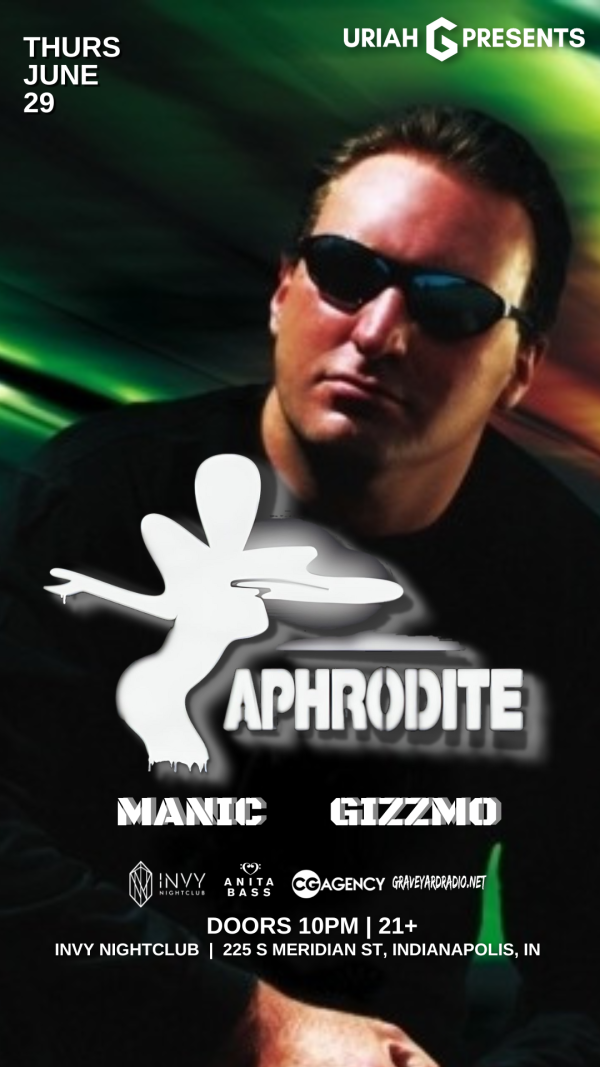 Location
INVY MUSIC VENUE

225 South Meridian St,
Indianapolis, IN 46225
Get Directions
Location
INVY MUSIC VENUE

225 South Meridian St,
Indianapolis, IN 46225
Get Directions
Event Description
Uriah G Presents, in conjunction with Anita Bass and Graveyard Radio,
Coming all the way to us from the UK, is DJ APHRODITE, June 29th at INVY in Downtown Indianapolis.
Opening the night are some of Indianapolis' own drum and bass crew, Manic and Gizzmo! 
DJ Aphrodite has been a mainstay of the Worldwide Rave Scene since the early nineties. For every country around the world with a Drum & Bass scene, DJ Aphrodite has produced anthems. 'Ganja Man', 'King Of The Beats', 'Style From The Darkside', 'All Over Me', 'Summer Breeze', 'Dub Moods' and 'Stalker' from the infamous record shop scene in movie 'Human Traffic', 'Mash Up You Know', 'Booyaa' and 'We Enter', to name just a few. His solo compositions have all graced Junglist and DnB playlists everywhere.
https://www.facebook.com/djaphrodite
https://www.instagram.com/dj_aphrodite
http://www.twitter.com/djaphrodite
https://www.youtube.com/@DJAphrodite 
Tickets for sale at Invynightclub.com