TREBLE SQUAD & METRO
Sat, Sep 23, 2023 9:00pm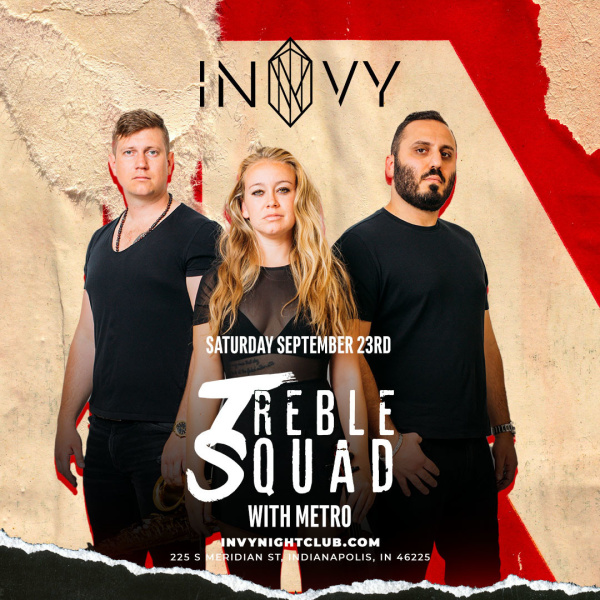 Location
INVY MUSIC VENUE

225 South Meridian St,
Indianapolis, IN 46225
Get Directions
Location
INVY MUSIC VENUE

225 South Meridian St,
Indianapolis, IN 46225
Get Directions
Event Description
TREBEL SQUAD & METRO @ INVY!
Saturday September 23rd
TREBLE SQUAD
A super sonic trio consisting of a violinist, saxophonist, drummer, and a DJ / producer. They perform electronic music with the focus on big room, deep, vocal, and melodic house sub-genres. Since 2018 they have performed at some of the top venues and festivals in North America such as Bonnaroo, Burning Man, Northern Nights, Spring Awakening, Celine, PRYSM, Soundbar, and many others of this caliber including residencies in Mexico.
METRO
A force to be reckoned within the club scene, DJ Metro is undoubtedly one of the most respected DJ's to come out of Chicago.
For more than 15 years, Metro has dedicated his time in becoming one of the most respected nightclub & private event DJ's. While at the same time, becoming one of the nations most listened to DJ's over the airwaves. Today, you can hear him DJ'ing every Friday & Saturday on the cities biggest radio station, B96.3.
Playing to the masses hasn't been an issue for Metro in a long time. From concert bills, to sports arenas, his style goes unmatched and has led him to share the stage with artists such as Britney Spears, Justin Bieber, Lil Jon, Ariana Grande, Pitbull and Daddy Yankee.
In 2013, the Chicago Bull's asked him to be apart of their new entertainment production, as their official DJ. It's a residency that he holds till this day, playing to 25,000 fans in attendance. And, in 2016 he signed on to be the official DJ of the Chicago White Sox.
Whether showcasing his skills in Red Bull Thre3Style, DJ'ing for Nike, or playing some of the nations best nightclubs, Metro is sure to leave his impact in a room filled with people of any demographic. As you can clearly see, this is the beginning what looks to be a long career for the Chicago native.