DJs FROM MARS
Wed, Nov 22, 2023 9:00pm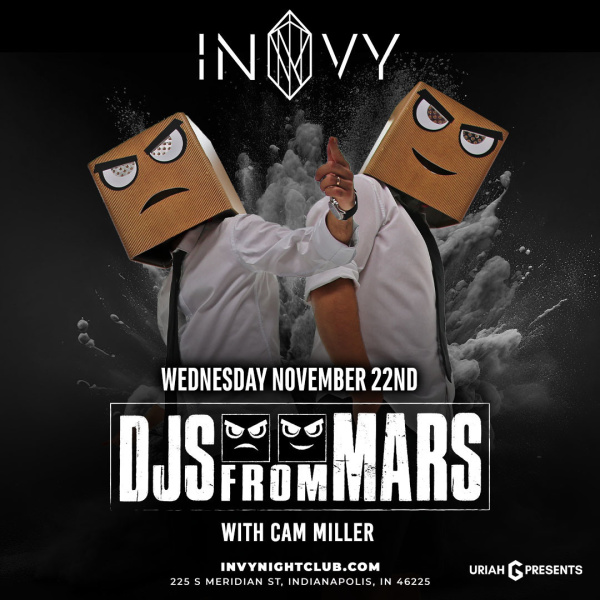 Location
INVY MUSIC VENUE

225 South Meridian St,
Indianapolis, IN 46225
Get Directions
Location
INVY MUSIC VENUE

225 South Meridian St,
Indianapolis, IN 46225
Get Directions
Event Description
DJs From Mars @ INVY!
Wednesday November 22nd
Support by Cam Miller
Djs From Mars bring the mash-up attitude into Electronic Dance Music.
Their style is a 360° blend of every musical genre, with the add of their Alien basslines and beats. Their numbers on Social Media are constantly growing: with 140.000 Instagram followers and 1,5 million Spotify monthly listeners, and 600.000 YouTube subscribers they're currently one of the most popular dj
acts in the whole world. Their videos on YouTube have over 250 million views and the numbers are constantly growing...
In the last years they also work on official remixes for David Guetta, Black Eyed Peas, Shakira, Sean Paul, Laidback Luke, Coolio, and the list goes on...
Their tracks and remixes are supported by the biggest djs in the world like David Guetta, Tiësto, Diplo, Steve Aoki, Afrojack, Oliver Heldens, Nicky Romero, Carl Cox, Laidback Luke, and more....
In 2013 Djs From Mars are officially recognized as one of the most popular acts worldwide, getting their own spot in the DJ MAG TOP 100 DJS.
In the last 10 years they're touring non-stop in the 5 continents: USA, China, India, Australia, Japan, Canada, Brazil, Mexico, Indonesia, Thailand are on the list of their recent tours, and basically every country in Europe received a martian visit so far. With a tour schedule of an average 100 shows per year in the last
12 years, they're one of the most booked acts in the whole dj scene.
In 2018 they produce a megamashup for David Guetta with his greatest hits. David likes it and release the video on his official YouTube channel (now it has already 60 million views). They start a collaboration with the top French dj that leads to some remixes for Guetta's set at Ultra Miami 2019, plus an official remix for his singles "Stay" feat. Raye in 2019, "Let's Love" feat. Sia in 2020, and the global hit "Don't You Worry" with Black Eyed Peas and Shakira in 2022.
2020 starts with another huge release: a new collab (official release) with Tiësto on his own label Musical Freedom, the track is called "The Drop". In the same year they release a special mash-up on YouTube called "The Best Of EDM 2010-2020": it's currently counting 45 million views.
2022, after the pandemic break, is their biggest year so far. They perform for the first time at TOMORROWLAND MAINSTAGE, at World Club Dome in Germany and at Ushuaia in Ibiza for F*** Me I'm Famous with David Guetta, also joining the stage with him to play together their collab remix for "Don't You Worry"
New music is coming in the next months....so stay tuned...