LEFTOVERS ft. GETTOBLASTER & DJ SLUGO
Sat, Nov 25, 2023 9:00pm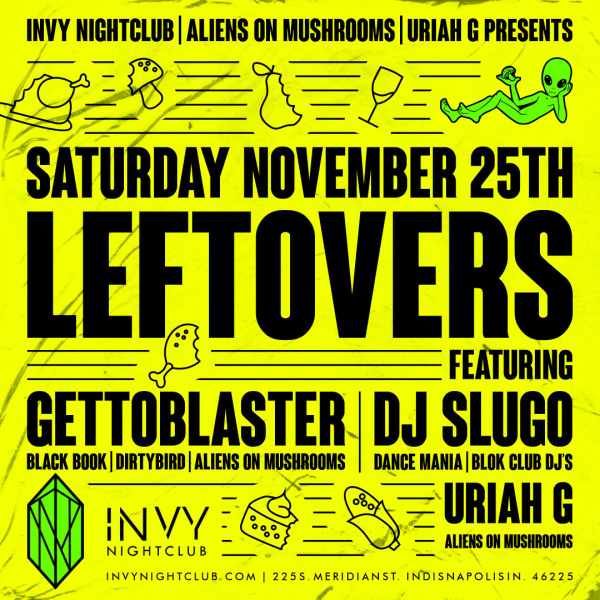 Location
INVY MUSIC VENUE

225 South Meridian St,
Indianapolis, IN 46225
Get Directions
Location
INVY MUSIC VENUE

225 South Meridian St,
Indianapolis, IN 46225
Get Directions
Event Description
Invy Nightclub, Aliens On Mushrooms, & Uriah G Presents...
LEFTOVERS w/ GETTOBLASTER & DJ SLUGO
Saturday November 25th
At this very moment, Gettoblaster is likely to be in a dark overcrowded room somewhere, pounding out their raw breed of dance music to a mob of house and techno heads. More then just DJ's, this set of tastemakers are leading a movement, raised by the underground and determined to keep it alive. Heavily influenced by the sounds of Chicago and Detroit's underground scenes, they're taking it back to the fundamentals – to what made dance music so damn good in the first place. Fully equipped with a never-ending ow of four-on-the-oor beats, Gettoblaster has created their own sound by taking what they've been inuenced by for years and twisting it with modern day production and pushing the genre of jackin tracks to the future. Their first release of 2020, Gettoblaster & DJ Deeon "The 302" EP on UK's Patrick Topping's label "Trick" featuring remixes from Paul Johnson and DJ Haus along with a Patrick Topping Edit has been on steady rotation from BBC Radio 1's Pete Tong, Annie Mac & Danny Howard to techno icon Marco Carola. They also did the annnual DJ Mix for Dirtybird's Miami Compilation 2020. No doubt 2020 will be a great year for the duo, with festival announcements and performances lined up around the world. Make sure you catch these two on a danceoor near you.