DRAG ILLUSTRATED AFTER HOURS - BRANDI CYRUS
Thu, Dec 7, 2023 9:00pm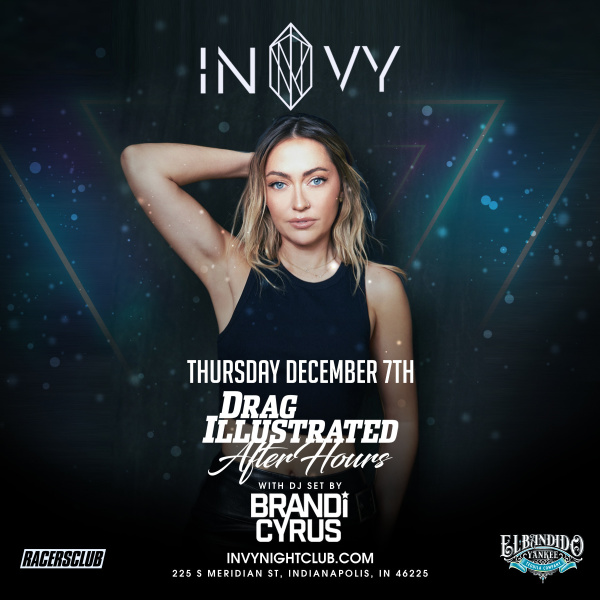 Location
INVY MUSIC VENUE

225 South Meridian St,
Indianapolis, IN 46225
Get Directions
Location
INVY MUSIC VENUE

225 South Meridian St,
Indianapolis, IN 46225
Get Directions
Event Description
Drag Illustrated After Hours @ INVY!
Special DJ Set by Brandi Cyrus
Thursday December 7th
Sponsored by Racers Club & El Bandido Yankee Tequila Company
Brandi Cyrus is an American actor, model, singer, fashion blogger, influencer, and DJ. She initially gained recognition for appearing in films and TV series, such as 'Old 37,' 'Zoey 101,' and 'Hannah Montana.' In 2017, Brandi and her Mom, Tish Cyrus, starred in the reality television series 'Cyrus VS Cyrus: Design and Conquer'. The Mother and Daughter pitched interior design ideas to clients in a competition to make the winning vision a reality.
Brandi Cyrus is a world class DJ, an Influencer with over 1.1 million Instagram followers (@brandicyrus), a Fashion Blogger, and the co-host of two Podcasts, "Your Favorite Thing Podcast," (Wells Adams and Brandi Cyrus), and "Sorry We're Stoned," (Brandi Cyrus and Tish Cyrus).
Brandi djs regularly in high profile venues like HQ2 (Atlantic City), Zouk (Las Vegas), and Atlantis Resort (Bahamas). She's performed at events for Sundance Film Festival (Park City), Superbowl LII (Minneapolis), and South X Southwest (Austin).
When she's not traveling for dj gigs, Brandi takes care of her farm animals and her dog, Astra. Her farm animals include horses and donkeys that she rescued with her sister, Miley. They have been known to make appearances on Brandi's Instagram Story.