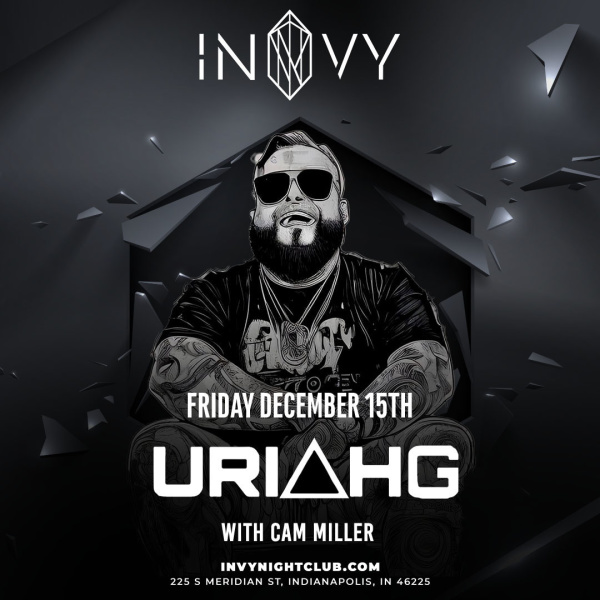 Location
INVY MUSIC VENUE

225 South Meridian St,
Indianapolis, IN 46225
Get Directions
Location
INVY MUSIC VENUE

225 South Meridian St,
Indianapolis, IN 46225
Get Directions
Event Description
Uriah G @ INVY!
Friday December 15th
Support by Cam Miller
Uriah G. is a passionate DJ and Producer who puts his heart and soul into everything he does. Growing up in Indianapolis Uriah G. started DJing at 14 yrs old. He began taking lessons from Mixmaster DJ Topspeed. Those lessons provided a solid foundation for his later career as a DJ and Producer. Throughout his turbulent youth, House Music served as the tether that would anchor him to solid ground and thus saved his life. In those difficult times Uriah G. found inspiration in such Artists as Bad Boy Bill, Donald Glover, Dan Scooter, and Paul Anthony. When Uriah began promoting, it was like a natural blend between his passion for House Music and his love of entertaining. Promoting enabled him to network while building strong bonds within the community, leading to lifelong friendships embedded in the Electronic Music scene. During the Covid-19 pandemic, Uriah G. picked up the decks again; crediting longtime friend Dustin Sheridan for pushing him to pursue his passion for music in earnest. 
Uriah G. wasted no time putting his vision into motion, making his DJ debut in 2020. As the Agent and Booking Director for INVY nightclub in downtown Indianapolis, Uriah G. continues to bring and play with such talent as Anthony Attalla, Green Velvet, Gettoblaster, and Lee Floss on a regular basis. While his real love is House music, Uriah G. has a penchant for unity within the local Indianapolis scene and has started to branch out by bringing Dubstep as well as Drum and Bass to INVY. This adds to the ever growing musical topography in Indianapolis. 
This year, Uriah G. stepped into the realm of production with a total of five tracks. Two of those five are slated for release on Gettoblaster's well known label, Aliens on Mushrooms in the later part of 2022. Despite the constant demands of being a Talent Buyer, a DJ, and a Producer . . . Uriah G. always makes time for the apple of his eye (his son),  little Eddie.