LIZZY JANE w/ Upprz, Jay Smilez, and Lux Phono
Sun, Jul 25, 2021 9:00pm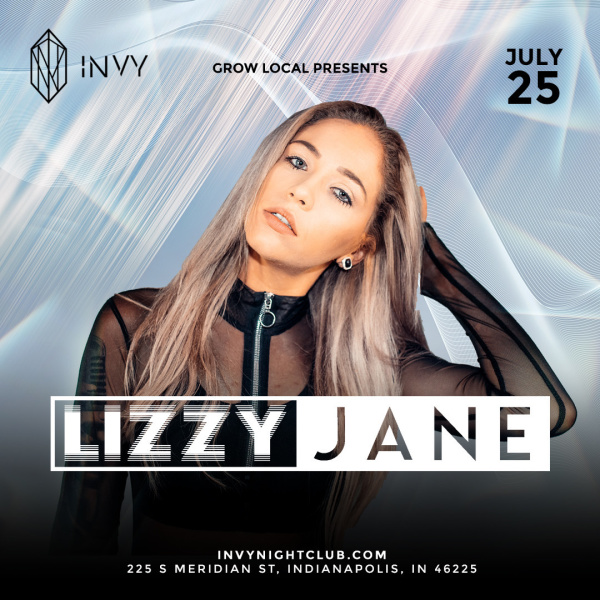 Location
INVY MUSIC VENUE

225 South Meridian St,
Indianapolis, IN 46225
Get Directions
Location
INVY MUSIC VENUE

225 South Meridian St,
Indianapolis, IN 46225
Get Directions
Event Description
Lizzy Jane, esteemed producer, DJ, and curator of her very own radio show, XO Radio, and podcast, The XO Podcast has taken the music scene by storm from a young age. With a diverse background composing music as a vocalist, pianist, and bassist, she brings a unique set of skills to the forefront of the electronic scene as she paves the way for her growing success. The young talent from Florida utilizes her eclectic music taste and eccentric attitude for a passionate and welcome twist to the realm of bass music. Exploring all sub-genres in her productions, Lizzy Jane fights to combine elements of melodic progression and bass synthesis for a truly unforgettable result. .
Is there anything Lizzy Jane can't do? Since exploding onto the scene, the Tampa native has had a hand in multiple facets of the dance music industry. Not only is she consistently cooking up incredible tunes, but she also curates artists for her XO Radio mix series, which has showcased dance music's rising stars for over a year!
With releases on Kannibalen, Nightenjin, and GRL GANG, Lizzy Jane's high-energy brand of bass music has already led to tons of success. Intricate synth melodies, heavy bass, and an impressive command of sound design have fans across the scene clamoring from more music from this wickedly talented producer!
Even with the constraints of quarantine, Lizzy Jane hasn't slowed down. We talked with her about her upcoming releases, her foray into live streaming, and which tunes she's been bumping at home. Her answers are thoughtful and packed with some really cool insights, so make sure you keep reading to hear it from Lizzy Jane herself!