SINISTARR.Support by Rich Lather, Ender, & Paris Apollo
Sun, May 1, 2022 9:00pm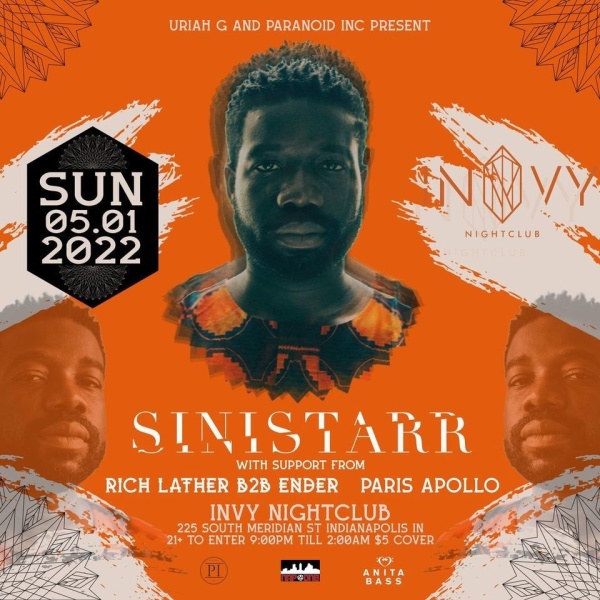 Location
INVY MUSIC VENUE

225 South Meridian St,
Indianapolis, IN 46225
Get Directions
Location
INVY MUSIC VENUE

225 South Meridian St,
Indianapolis, IN 46225
Get Directions
Event Description
Uriah G & Paranoid Inc Presents...
SINISTARR @ INVY!
Support by Rich Lather, Ender, & Paris Apollo
Sunday May 1st
Jeremy Howard, aka Sinistarr, is truly one of the most interesting and exciting names to hit the underground dance music world this past decade. He has become known as an innovative and consistent producer and a skilled and adventurous DJ, and his sound isan authentic extension of his soul and the pure talent that Jeremy possesses, deftly exploring the soul of yesteryear with a modern context. This sound represents his life living in and around his hometown of Detroit, MI and his collective travels around the world. His creativity defies genres, and sees him infuse his unique sound into a broad range of tempos and vibes. He is equally at home writing emotive headphone music, or in-your-face dance-floor cuts.
Jeremy began his movement deeply rooted in the world of Drum & Bass, having releases on legendary labels like Metalheadz Platinum, Renegade Hardware and Creative Source. He continued over the years to evolve his sound as his own prowess as a producer grew, eventually branching out into many different tempos, still maintaining his unique sound exploring the realms of Footwork, Jungle and Techno. Recently he has seen releases on labels like Tectonic, Hospital, Loose Squares and most notably, the 70th release on dBridge's iconic imprint Exit Records.
He has shared the stage with and been supported musically by some of the biggest names in the game like Machinedrum, Fabio, Ivy Lab, Om Unit, Sam Binga, Rockwell & Dabrye to name but a handful. His sounds have been heard all over Rinse FM, NTS, FM Xtra and BBC Radio 1 & 1Xtra and he turned in a DNB60 mix for Friction's quintessential Drum & Bass show.
Sinistarr has been increasingly touring and hitting major clubs and festivals like SXSW (Texas), Secret Solstice (Iceland), Tresor (Berlin), Oil Club (China), Bass Coast (Canada), and many more around the world.
There is seemingly no obstacle too high for him, and we couldn't be more thrilled to watch his amazing journey.
More info at INVYnightclub.com 
See less