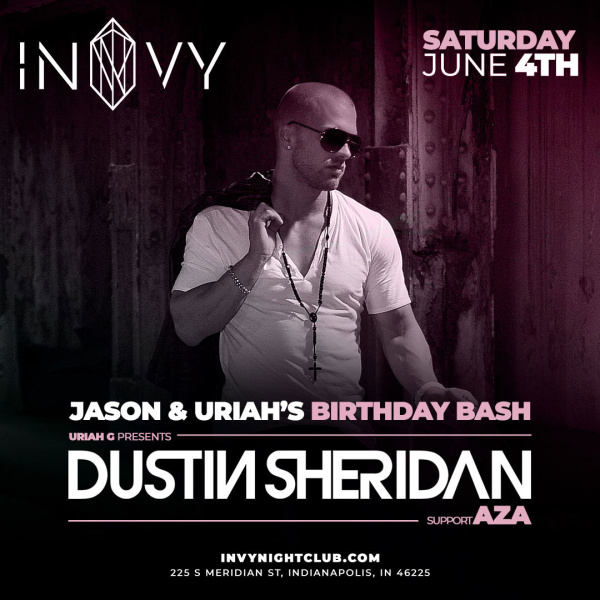 Location
INVY MUSIC VENUE

225 South Meridian St,
Indianapolis, IN 46225
Get Directions
Location
INVY MUSIC VENUE

225 South Meridian St,
Indianapolis, IN 46225
Get Directions
Event Description
Taking the underground scene by storm Dustin is One of the Newest, Most in demand up & coming House DJs in Chicago!
 Growing up in Chicago early influences came from Bad Boy Bill, Dj Funk, Gene Farris, Alex Peace, Derrick Carter, Paul Johnson, Green Velvet, Deep Dish, Sander Kleinenberg, Jamie Jones, Marco Carola, Daft Punk, Jamiroquai, Stevie Wonder, all the amazing music from 80's & 90's too much to list!
Years of taking trips to WMC (SPACE TERRACE) BPM, DEMF, IBIZA, BURNING MAN etc his obsession grew and the music took over! You can tell the amount of love and joy music has brought into his life from his DJ sets. Each set comes straight from the heart and vibes off vast amounts of good energy! His versatile style brings a Fusion of Deep, Sexy, Groovy, Funk & Jammin Tech House!
His greatest high comes from making people dance, seeing the smiles, hearing the thank yous, its what keeps him fueld! Before Djing he found himself in those same dancing shoes, sharing these same feelings and words to other Djs. This is what lead him naturally to where he is today holding down residencies at 2 of Chicago's Top Venues Spybar & Primary along w/ The Kazbah @ Burning Man. 
He recently finished classes for digital music production and has been working hard developing his production skills. So be on the look out soon for some new releases by the up and coming Dustin Sheridan!
DJ Aliases:
- SOULTECH - "Gene Farris & Dustin Sheridan"
- GARRETT & DUSTIN - "Inphinity & Dustin Sheridan"