MR SHAW
Fri, Feb 10, 2023 9:00pm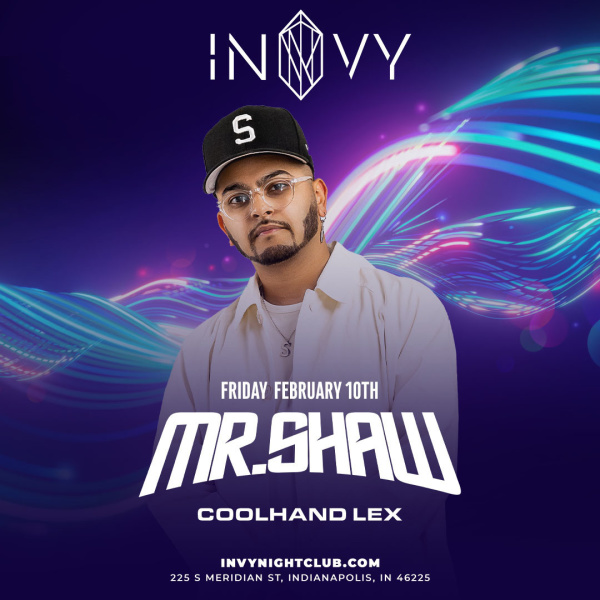 Location
INVY MUSIC VENUE

225 South Meridian St,
Indianapolis, IN 46225
Get Directions
Location
INVY MUSIC VENUE

225 South Meridian St,
Indianapolis, IN 46225
Get Directions
Event Description
BOLLYWOOD & OPEN FORMAT
MAR SHAW with COOLHAND LEX
Mr.Shaw, also known as "Kid@Heart" is a Chicago native who has created memorable experiences as the newest generation of open format DJs. Shaw believes in musical journey. The belief that the night should always tell a story through the highs and lows of song selection. Through his experience as a DJ, Shaw says knowing what songs to play is his biggest advantage. 
​
Over the years, Shaw has gained recognition from music celebrities such as Rick Ross, Busta Rhymes, Lil Jon, Kid Ink, Mike Posner, Krewella, Sean Paul, Jeremih, Jermaine Dupri, Jay Sean, Madison Beer and many more. His personable attitude and passion for what he does has given him opportunities to play alongside some great artist and DJs in Chicago and all over the nation. Mr.Shaw currently holds a residency at Joy District Nightclub (Chicago), Fremont (Chicago), & ROOF on the Wit located in the River North area in Chicago. As Chicago is his home-town, Shaw has also proved to show case his skills at clubs in different cities like LA, Las Vegas, Miami, Minneapolis and more.
​
With a fan base growing by the minute, Mr.Shaw is just shy of over 9 Million views on YouTube, and over the years has reached over 100,000+ plays on his mixes. More than any statistic, Mr.Shaw has made it a mission to create musical experiences for his supporters at his shows.